Group of companies "INFORMTEKHNIKA" has developed a new implementation of a subscriber device PABX "MiniCom DX-500" - software and hardware computer telephony IT-Phone, "turning" PC into a full-featured analog of a familiar digital telephone. At the same time there is no need to connect PC to PABX via specialized communication lines - simply connect the station to office or departmental LAN and any PC connected to the network will be able to perform the functions of a digital subscriber device.
 Software client included in IT-Phone offers a balanced, user-friendly graphical interface and advanced features that are so necessary for a dynamic work in a modern office.
 IT-Phone enables connection of hardware SIP-phones to PABX on the rights of a station subscriber, which guarantees a complete list of traditional telephony services to such subscriber.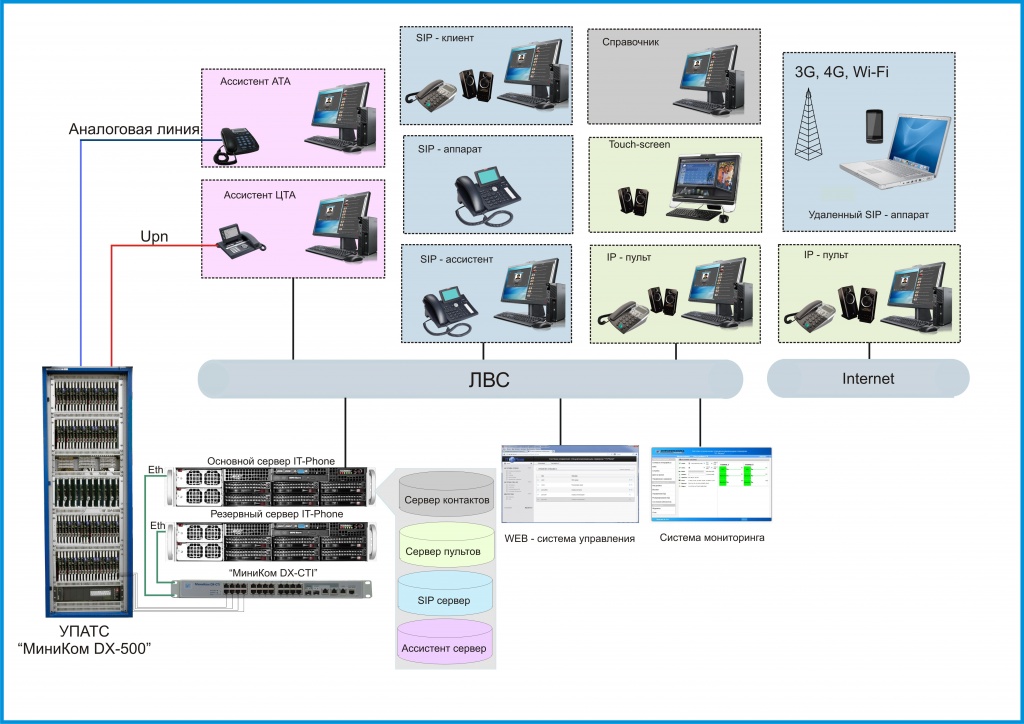 The key elements of the system are servers that provide 24/7 continuous operation of communication network. One of the servers implements the functions of centralized storage and backup of IT-Phone contacts database; the second one provides a connection of subscriber line to PABX "MiniCom DX -500" via one or more E1 flows. Unique algorithms allow the provision of telecommunications services to serve up to 120 users on a single E1 flow. A powerful high-performance computing server platform with high level of reliability, as well as "hot" backup of key elements of the system, ensures continuity and high quality of service to IT-Phone subscribers. To get started, simply connect the server to PABX and configure the subscriber database. Easy-to-use and familiar WEB-interface of the server management system will help to quickly set and run IT-Phone. Using client-server architecture provides the flexibility to migrate subscribers, because a physical device is not bound to its number; just enter user name and password at the workplace in order to access all features and services of IT - Phone. Thus subscribers of IT-Phone system are full PABX subscriber and have access to all additional service functions implemented in "MiniCom DX -500" platform:
Call transit
·         Call forwarding
·         Call pickup
·         "Follow me"
·         Callback
·         Conference, etc.
 As a subscriber speech kit, standard audio recording and playback devices (microphone, headphones, speakers) or USB-devices specialized for VoIP applications can be used such as: Skypemate P1K, Skypemate P4K, P10D, W1DL, VM-01, VOIPVoice Cyberphone- W V654SK, Cyberspeaker-W V655SK, HP Internet Handset, P'lantromcs P540M, Plantromcs P210M, ATCOM AU-100, etc.
IT-Phone is new software that promises to make communication simpler and more convenient. Using it you can carry not only phone calls, but also enjoy additional services implemented, for example, if there is no user in the workplace, call forwarding or answering machine enables automatically; and in the course of conversation it is convenient to use the recording / reproducing of speech fragments and mp3 files. Subscribers of institutional station receive many services, which have become common when working with instant messengers and mobile phones.
 Quick and convenient access to the latest phone calls is provided. IT-phone groups calls by time; divides them into incoming, outgoing, missed; generates a list of frequently used and favorite contacts.
 Flexible ways of grouping users in a list of favorite contacts, a "quick search" of contact - all this saves the user's time and energy. Additionally it includes possibility to define a busy status of a subscriber. "Speed ​​Dial" mechanism allows you to make a call by pressing just one button.
 The division of contact for common and personal allows the user to determine what information about the contact will be available to all users of the system, and which only to him personally.
 All contacts and user profile settings are automatically saved on a server, which provides mobility of the system when the user works with another computer.
 Application is adapted for touch screen computers. Also a number of commonly used core functions of the application are duplicated on the USB-phone buttons.
 Various user logs, practically unlimited call history – all this helps the user to remember what happened and when.
 IT-Phone provides great opportunities for settings: appearance (more than 60 themes), audio, audio input / output devices of supported USB-phone.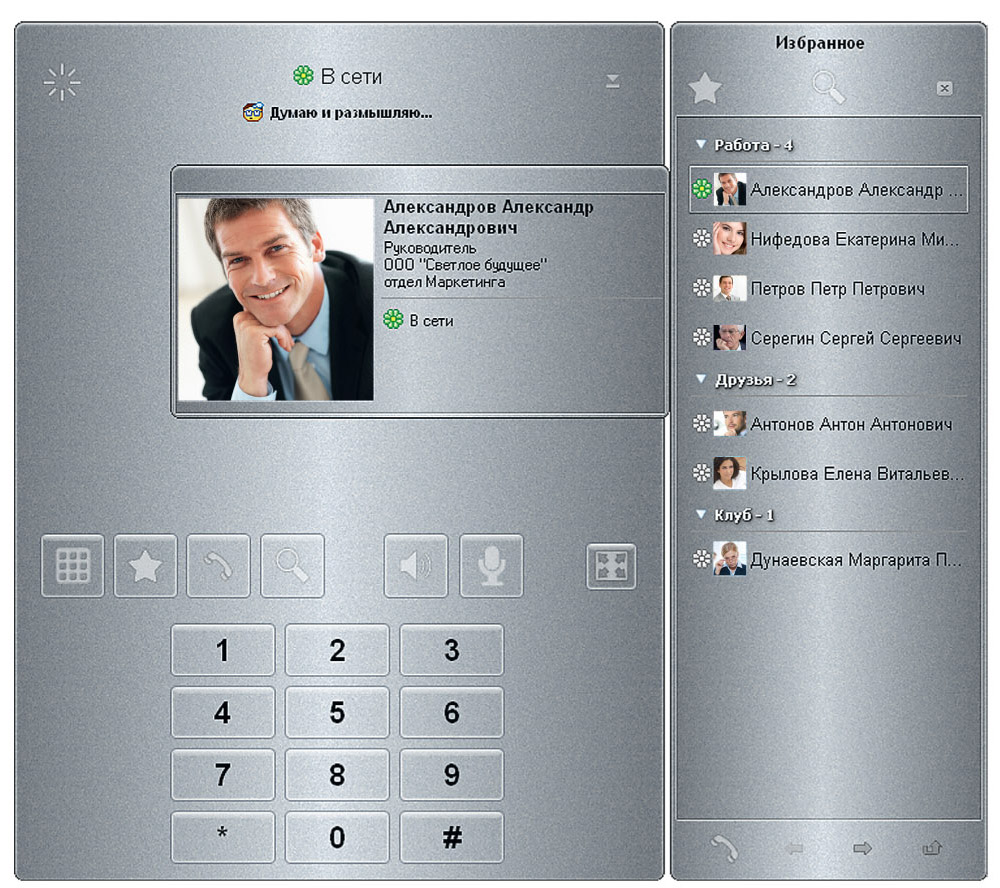 When a new version of IT-Phone is released, it is enough to download it on a server. All users will automatically receive a notification of the need to upgrade and will be able to carry it out without the participation of a network administrator.
 Having built-in algorithms for close of user traffic provide remote removal of IT-Phone subscribers through the public network, which will always be in touch at work number.
 It is assumed that the new product first of all will interest professionals who want to provide a rapid connection of users of remote and mobile offices without having connections across E1 flows to head PABX, but united by a common data network. In this case, the additional office staff will be available on the internal numbering plan.